[vc_raw_html]JTNDaWZyYW1lJTIwc3JjJTNEJTIyaHR0cHMlM0ElMkYlMkZwbGF5ZXIudmltZW8uY29tJTJGdmlkZW8lMkY1MjE0MjY0NzMlMjIlMjB3aWR0aCUzRCUyMjEwMCUyNSUyMiUyMGhlaWdodCUzRCUyMjQ1MCUyMiUyMGZyYW1lYm9yZGVyJTNEJTIyMCUyMiUyMGFsbG93JTNEJTIyYXV0b3BsYXklM0IlMjBmdWxsc2NyZWVuJTNCJTIwcGljdHVyZS1pbi1waWN0dXJlJTIyJTIwYWxsb3dmdWxsc2NyZWVuJTNFJTNDJTJGaWZyYW1lJTNFJTBBJTIw[/vc_raw_html]
At Shire Beds we offer high-quality products tailored and personalised to your specification. Our bespoke bed manufacturing service allows you to choose options including drawers, sprung edge base options, castors and legs, special sizes and a variety of different headboards.
Sprung Edge Base
Our beds come with a platform top as standard, but you can also choose a sprung edge base option which softens the feel of the mattress. This option is available on all our mattress models.
Castors and Legs
All of our beds are available with various wood or metal leg options to suit your requirements.
Most of our mattress collections can be made to suit individual size specifications.
As standard, the below sizes are what we currently offer:
Single
Width: 3′ 0″ (90cm)
Length: 6′ 3″ (190cm)
Three Quarter
Width: 4′ 0″ (120cm)
Length: 6′ 3″ (190cm)
Double
Width: 4′ 6″ (135cm)
Length: 6′ 3″ (190cm)
King
Width: 5′ 0″ (150cm)
Length: 6′ 6″ (200cm)
Super King
Width: 6′ 0″ (180cm)
Length: 6′ 6″ (200cm)
Headboards
We offer headboards in a range of styles to match the fabric on most of our products. These can be customised to suit your requirements. View our headboards page to see the styles available.
Drawer Options
All our wooden drawers are upholstered to match the divan base and all beds are available with any combination of drawer options.
The drawer options include continental drawers, side drawers, end drawers and slide drawers.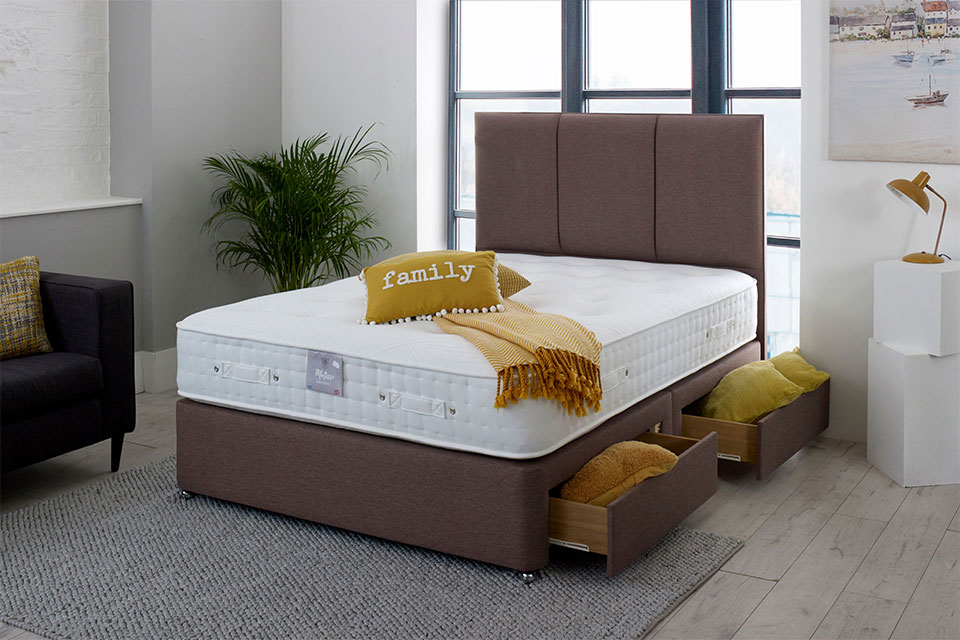 Enquire Now
Get in touch using the contact form, or email or call us.
Email: info@shirebeds.co.uk
Phone: 01924 439 898
Menu